We are now hiring for the 2017 Summer, deadline to apply: March 12th.
Golden Lake Camp's staff team is made up of a number of permanent staff, who work all summer and are extensively trained. We also gratefully rely on a large team of volunteer counsellors who work with us on a week by week basis. We offer an honorarium and high school community service hours to our volunteer counsellors in recognition of their important work.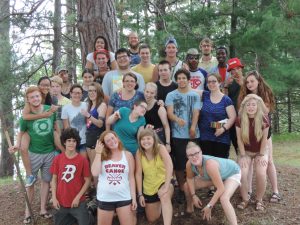 You can involve yourself with Golden Lake Camp in several different ways. If you've never worked at a summer camp before you could take a look at our training programs. If you're interested in working for just a few weeks this summer, you might consider being a counsellor. If you want to work at camp all summer, consider applying for Permanent Staff.
Counsellor in Training Program (CIT) is for Ages 14-15. The CIT program will teach you all about what it takes to be a counsellor here at GLC. (If you are only 14 or 15, however, you will have to wait until you are fully 16 (and have completed LDC) to be an actual counsellor.)
Leadership Development Camp (LDC) is for ages 16 and older. The LDC is a program that will give you the leadership experience needed to become a excellent staff member! For more information please visit the LDC page.
Counselling at Golden Lake Camp is an irreplaceable experience. Check out the job description file and the application form. You need to be at least 17 by December 31st, 2017 to apply.
Permanent Staff members work at camp the full summer (see Calendar), with one week off. Join the team that makes each summer amazing, and unique.  Apply below.
Job DESCRIPTIONS
Please take time to read through the job description to make sure you apply for the position that fits best. 2017 Job descriptions
To Apply
Deadline: March 12th, 2017.
To apply to work at Golden Lake Camp please email Deanna and Kaitlyn at deanna@goldenlakecamp.ca your resume and cover letter with references, as well as the answers to the following questions:
What are your first and second choice positions?
Why do you want to work at camp this summer?
How would you explain your faith in God to a child?
What is significant about summer camp for a child?
What is a challenge you anticipate, and how will you overcome it?
NOTE* if you are applying for a volunteer/temporary position please indicate which weeks you are available.
Don't forget – your application requires 2 references.
Why work at Golden Lake Camp?
Working at Golden Lake Camp means your summer will be filled with games, singing, outdoors, friendship, spiritual growth, and joy! Just a few of the reasons you should consider it are:
To Help
Working at camp allows you to be a positive role model in the lives of many children. Joining our team of leaders here at Golden Lake Camp will give you the opportunity to do great, long lasting things. Every member of our staff will have the opportunity to use their own personal gifts and strengths. You can help make the summer a memorable journey for the 500 campers who come each summer!
Learn and Grow
Besides helping others do the same, working at camp will teach you a lot about yourself. You will experience things that will happen at few other places. Staff devotions and group discussions are some of the structured activities for learning, really Golden Lake Camp is a place for staff to grow as much as the campers.
Valuable Experience
The experiences gained at GLC will be very valuable in your future. There are countless examples of camp experience helping former staff members land a great job, or helped staff members get into university or college! Consider that even just a few weeks at camp (even just as a counsellor) can allow you to add these points to your resume:
Worked with kids ages 8-18 as a leader, and counsellor.
Facilitated small group discussions and activities.
Ran camp-wide games for up to 70 campers.
Served as leader on a canoe trip.
On top of all that, the experience gained at camp will give you abilities in other places to be a leader, innovator, and overachiever! You'll develop relationships with people that can become amazing references for potential employers or university applications.
Volunteer Hours
Each week, if you are a volunteer counsellor, will give you 40 Volunteer hours, which could help you graduate high school, or even help you receive scholarships or bursaries for college/university!